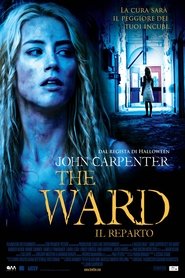 The Ward – Il reparto (2010) - streaming CB01 | AltaDefinizione
La cura sarà il peggiore dei tuoi incubi.
Sep. 13, 2010
USA
88 Min.
R
Sinossi
Kristen, una bella e problematica ragazza, si ritrova rinchiusa nel reparto di un ospedale psichiatrico dopo aver bruciato una fattoria, coperta di lividi e tagli senza nessuna memoria degli eventi precedenti il suo ricovero. Le altre pazienti non riescono a fornirle delle risposte, e Kristen si rende conto ben presto che il reparto nasconde terrificanti segreti. Quando le altre ragazze iniziano a sparire una ad una, Kristen deve trovare un modo per fuggire da quel luogo sinistro e pieno di misteri, ritrovandosi più volte faccia a faccia con un essere misterioso e orripilante che ce l'ha con lei apparentemente senza motivo.
Film The Ward – Il reparto (2010) essere guardato online su smartphone Android, iPhone iOS, tablet e computer su Windows on CB01.
Titolo originale
The Ward
IMDb Rating 5.6 38,911 votes
TMDb Rating 5.8 684 votes